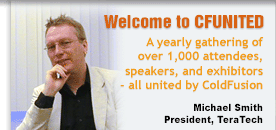 "
The CFUNITED Sneak Peek was a great success. CFDJ editor Simon Horwith was there and said the hotel looks really nice Much larger and also more professional than past venues. It's all new, has large rooms for sessions, the guest rooms and suites are nice, it has a hip bar/lounge, and that it's in a very convenient location, too. I think it's going to be a terrific event."
"
"
If this is your first time, you will be very happy. CFUN is the best CFML conference - period. ... consistently I can say CFUN is the one most worth your money
"
"
CFUN has become the premier CF specific event, and Michael Smith and his team deserve all sorts of praise for their hard work in pulling it all off yet again.
"
"
... learn tips, tricks, and trends from CFML industry leaders and experts, be inspired, and more productive than ever before!
"
"
...this event really is the best gathering in the world for people developing or managing CF systems. It's here that we can understand what happened, hear what's happening, and learn what's going to happen. You can't beat it.
"
"
Great place to network yourself and pick up new techinques and ideas. Also to meet ones peers, and see what the future holds for all those involved with ColdFusion
"
"
Introductions to the latest developing techniques. Get inspiration in new ways to develop projects. Generally, to "re-kindle" your cf "fire" by being part of a group excited by and interested in cf development.
"

New Technologies
Advanced CFML Topics
Integration Strategics




Industry Experts
Collegues and Peers
Old Friends and New




Industry Experts
Leading Vendors
Birds of a Feather


Go to CFUNITED 2006 Check out the latest news... Blogs and more...

Thank you everyone for attending CFUNITED! It was a great event this year. The venue was amazing and our speaker line up was very impressive. If you have any comments about the event please email

info @ cfunited.com

. We love to hear how we can make CFUNITED-06 even better.

Upcoming conference.
CFUNITED CONFERENCE MENU:
SCHEDULE

(Updated as of 6/21/05)

Monday

Classes 10am-5pm

Tuesday

Classes 10am-5pm

Wednesday

8am-9pm, sessions end at 7pm

Evening event at 7pm

BOF Sessions 8pm-10pm

Thursday

9am-9pm, sessions end at 6pm

ColdFusion's 10th Birthday 8pm

BOF Sessions 7pm

Friday

9am-5pm

Wrap-Up & Prizes at 4pm-5pm.

See

class schedule

for Mon 6/27 and Tues 6/28.

Full session schedule

Special Event Dates:

User Group Manager Meeting

Tuesday 10am-5pm

Thursday Evening Celebration for ColdFusion's 10th birthday, hosted by Hostmysite.

Networking Event on Wednesday Evening in the Exhibitor Area




TRACKS

Accessibility / Usability

Boot Camp

Advanced CF

Deployment

Manager/Empowered Programming

MX Integration

CFML Platform Integration




NEWS Contests (WINNER)

Interviews

Blogs

Spread the News

Download new logo

Link to CFUNITED with our new Banner ads

PRINT our Flyer

CFUNITED Advisory board

INFORMATION "ABOUT" CFUNITED

---

LATEST NEWS

A Flickr pool for CFUNITED has been created for posting pictures and discussions related to CFUNITED. The group is available to all conference participants. If you don't already have a Flickr account, it's free to join.
The url for the pool is http://www.flickr.com/groups/cfunited/ EB Games is donating an Xbox system to the ColdFusion Community Center at this year's CFUNITED. Read the article at House of Fusion http://breeze.brightcove.com/p94528478/ Happy birthday ColdFusion message to CFUNITED from Jeremy Allaire! Community MX

www.communitymx.com

Get the jumpstart you need to master new and exciting web technologies! Community MX offers two new articles (including extensions, components, tutorials, and templates) every single business day to keep you at your best with new and existing products from Macromedia and other companies. Come check out all we have to offer with a free 10 trial subscription.

Prizes for the raffle on Friday include... Decloak.com software, Centrasoft.com CFMX Exam Buster; Microsoft - Halo 2, Forza Motorsport, Flight Simulator 2004, Combat Flight Simulator 3, Zoo Tycoon 2, bluetooth optical mouse & keyboard; Macromedia - ColdFusion MX 7 Macromedia Press has a book store booth in the exhibitor area and has a discount for all attendees for 25% off! Some of our speakers will be scheduled to do book signings too! Do you like challenges? Do you like to stand up in front of crowds? then joint the CF Survivor game at the Community Pit - can you survive the code challenges and be the last one on the "island"? If you want to be a contestant email [email protected] with "CFUNITED survivor" in the title. Run by Simon Horwith, Editor of CFDJ magazine. The winner will be crowned top CF developer at CFUNITED and receive a special prize valued at $500. Chat with other attendees on the CFUNITED Fusetalk forum. Find room shares, rides and ask tech questions. ColdFusion is turning 10 years old! Come celebrate with us at 8pm on Thursday Evening 6/30/05. Join in the games, open bar, and a birthday cake! Hosted by Hostmysite.com and TeraTech. Attendee Dinner on Tuesday Night 5-7pm. Organized by CFDynamics. Meetup with your friends the night before the conference! House of Fusion CF-Community Message Board "CFUNITED Registration Packet" Attendees can expect their registration package in the mail soon. The next mailing for registration packets go out June 8th. Conference Layout ATTENTION CFUNITED attendees: We do not require that you pre-select the sessions you wish to attend but we would appreciate your help in filling out our SESSION survey. Also, it is here you can let us know if you need a kosher meal or any other events surrounding the conference you plan to attend! Topic suggestions for attendees interested in the following:
Manager sessions
Beginner/Newbie sessions
Government related sessions MiniMAX 2! Join Adam Bell, Simon Horwith and four additional speakers for the prelude to the CF United conference on Tuesday Night, June 28th at 7PM ET. http://www.minimaxconference.com/ Calling all MMUG managers! We would like you to join us for a full day of pre-conference discussions about various topics. 9am - 5:30pm http://www.cfconf.org/mmug_managers_2005/ Hostmysite Front Page

Join 'Silver Sponsor' HostMySite at CFUnited to hear CEO, Lou Honick, share his experience of building a state-of-the-art datacenter.

Conference Hotel is BOOKED. More information about overflow hotels will be posted soon. Sorry for the inconvenience. Farewell, CFUN.... Welcome, CFUnited!
SYS-CON Media - Montvale,NJ,USA


... Started in 1999 at the National Institutes of Health (NIH) in Bethesda by TeraTech, this year is the seventh annual national ColdFusion event. ...

Challenge #2: Taking a Poll
SYS-CON Media - Montvale,NJ,USA


... The winner will have to tell me the name of the other person that's going to attend in advance. Thanks to TeraTech for donating this great prize! ...

MESSAGE TO SPEAKERS/SPONSORS:

Packets will be sent May 1st with detailed instructions for the event and equipment. We will have dimensions of booth panels and other information sent with the packet too.

Macromedia is our New Platinum Sponsor! New schedule posted. Subject to change. Last update 06/21/05. New sessions from Macromedia speakers on CFMX 7 announced Class schedules for Monday 6/27 and Tuesday 6/28 posted. click here REGISTER NOW! LIMITED SEATS PER CLASS. Read our Press Release. We've named a new track. CFML Platform Integration. See all the topics. New Sponsors: Universal Mind, Paperthin, Interakt, Savvy Software, ActivePDF, Microsoft, Fusiondox, Figleaf, and Hostmysite. Submit questions for Jeff Peter's talk 'The FLiP Show' at CFUNITED-05 New Keynote speakers: Joel Spolsky United Airlines is offering discounts to all attendees for their travel to the conference Check out all the cool topics this year! FAQs page Have we answered your question?



---




REGISTRATION

| | | |
| --- | --- | --- |
| Price Expires | Cost | |
| 2/25/05 | $449 | |
| 4/30/05 | $549 | |
| 6/10/05 | $649 | |
| Late | $749 | current price |
| At the door | $849 | |

What does registration include?

Admission for all three days

Lunch for all three days

Free materials from all presentations in a showguide and CD!

Evening reception with open bar

Networking event admission

Internet Access for all three days

(IN THE COMMUNITY PIT AND INTERNET CAFE)

Free Bag, Tshirt, Tag Poster, etc.

Discount Rates:

Group Rates

Press Pass

Government Rates

Student Rates

CFUG Members

CFUN alumni




Contact

Produced by TeraTech Programming

President - Michael Smith

Conference Manager - Liz Frederick

Email:

[email protected]

Phone: 301.424.3903

Address: 405 East Gude Drive Ste 207

Rockville MD 20850
CFUNITED conference has evolved into the premier ColdFusion® Conference. Our history charts display the attendance and session increases since 2001.