Spread - the - Word:
Download our new banner, logo, and flyer.
Find out the latest news.
Blogs.

Exhibitor Information Package is now available. Everything you need to know about your booth, expo hours, and due dates.
Sponsor Packet
Lead Retrieval Form
Equipment Rental
Or to make orders online for lead retrieval and equipment go to:
http://www.dyventive.com/cfunited

Booth Layout


Intersted in Exhibiting at CFUNITED?
Download Sponsor Packet
Contact Liz Frederick
at 301.424.3903 x107
or
[email protected]

Print
Press Release

New Venue:
Montgomery County Conference Center located in Bethesda North Marriott Hotel
VIEW
photo tour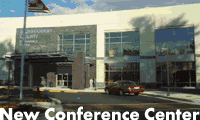 Due Dates:
First Postcard release with new sponsors, contract due 01/31/05


Speaker/Topics for Gold and Silver Level Sponsors, due 03/31/05


Pamphlet release with conference sponsors, contract due 03/25/05


Second Postcard release with new sponsors, contract due 03/15/05


Premium choice of booth spaces for gold level, contract due 03/25/05


Gold Level logo on Scratch pads, contract due 03/31/05


Give-a-ways and Prizes from Sponsors, due 04/29/05


To be included in Showguide/Handout, contract due 04/01/05


Sponsor Ads, due 04/08/05


Bag Promo items from Gold & Silver level sponsors, due 05/31/05





Sponsor's click here for due dates

Experience matters. Macromedia is motivated by the belief that great experiences build great businesses. Our software empowers millions of business users, developers, and designers to create and deliver effective, compelling, and memorable experiences - on the Internet, on fixed media, on wireless, and on digital devices.

Events Page
ColdFusion Page
User Group Page

---

TeraTech has been writing custom programs and tools for programmers since 1989. We currently program in Visual Basic, Access and ColdFusion. Our mission is to provide high-quality software development and tools in the area of ColdFusion, Database and Visual Basic programming.TeraTech is a leader in the ColdFusion development field and has organized twelve national conferences over the last five years.

---


Founded in 1975, Microsoft (Nasdaq "MSFT") is the worldwide leader in software, services and solutions that help people and businesses realize their full potential.

---

New Atlanta is the maker of BlueDragon - a product family for natively deploying CFML web applications onto standard .NET and J2EE platforms - removing the need for a Macromedia ColdFusion(tm) server. BlueDragon turns your .NET or J2EE application server into a native platform CFML server. With BlueDragon, CFML is now the only cross-platform web scripting language that will allow you to deploy natively on .NET and J2EE.

Come see CFML running natively on .NET!!!

New Atlanta's other products include ServletExec, a Java-based web application server that implements the Java Servlet and JSP standards; and JTurbo, a J2EE Certified JDBC driver for connecting to Microsoft SQL Server.

With over 11,000 corporate and individual customers in over 70 countries around the world, New Atlanta is a recognized leader - providing reliable and innovative server-side product since 1997.

---




CFDynamics is a leader in the ColdFusion community, with years of development under our belt and Macromedia Certified Developers on staff. With hosting customers across the globe we know the standards that developers have come to expect in a host. We have come to be known as a leader for providing reliable and powerful hosting.

Quality hosting and development services:
We strive to provide the most reliable and powerful hosting services. We balance all of our servers to provide ideal efficiency, reliability, and performance. We will not fill our servers with as many customers as possible.

Fair and reasonable pricing:
We continuously analyze our plans and pricing to ensure that our customers get superior services at the best price.

Superior customer service:
Our customers are very important to us and we will do ALL we can to provide the answers and support needed to keep your site running smoothly andefficiently.

---




ColdFusion Developer's Journal, published monthly, is the only magazine aimed specifically at Webmasters and Web application developers using the fast-evolving comprehensive Internet platform, ColdFusion, offered by Macromedia, Inc. With the print magazine's Web counterpart, ColdFusionJournal.com, plus weekly and monthly e-mail newsletters, CFDJ continuously provides the ColdFusion community with the information they need in order to create the most useful Web applications.

MX Developer's Journal is the world's first magazine focused on the transformation of Web interactions into great digital experiences – and into great business – using the Studio MX integrated family of tool, server, and client technologies from Macromedia, including Dreamweaver, Flash, Fireworks, FreeHand, ColdFusion, and Director.

---




Fog Creek Software has released two products. In 2000 we released our bug tracking software, FogBUGZ, now on version 3.0, which has evolved into a complete software project management system.

Our other product, CityDesk, is a powerful content management system for small and medium sites that runs on Windows and does not require special server software.

Fog Creek Software: Building the company where the best software developers in the world want to work.

---




InterAKT Online is the leading company creating software for Dreamweaver web development, offering a vast range of productivity tools. We were the chosen ones to create the ColdFusion MX 7 Dreamweaver Extensions, enhancing the Dreamweaver property inspectors and bringing improved CFC support for ColdFusion development.

As a further evidence of the quality of our products we were selected as a Macromedia Alliance partner in 2003. With an average growth of 200% each year, InterAKT has reached a large client base: tens of thousands for the free products and 10,000 commercial licenses sold.

---




Founded in 1993, PaperThin, Inc. has helped companies to communicate, share and deliver information in a manner that is efficient and effective. We have developed strategic applications for Fortune 1000 companies such as AT&T, Lucent Technologies, Fidelity Investments, Bank of New York, and Lotus that allow employees to be more productive in how they publish, manage and share business-critical information. Business to business, e-commerce and enterprise information portals are striving to attract, inform and retain their audience. The need for up-to-date content that is effective and targeted is critical, and organizations are now faced with how best to handle the creation, management, and delivery of content.

PaperThin's flagship product, CommonSpot™ Content Server, provides empowering Web authoring, content management and knowledge sharing and discovery capabilities necessary in the development, deployment and maintenance of today's business-critical Web sites.

---




Savvy Content Manager is a powerful and easy to use Web Content Manager built with ColdFusion. Savvy CM excels at not only being the most user friendly system for your end users, but also one of the easiest to implement and extend. Savvy is easy for the novice CF developer to implement, and powerful enough for the CF experts to leverage.

Savvy Software, Inc.
http://www.besavvy.com

---



Universal Mind is a boutique professional service and authorized training organization, focusing on Macromedia rapid application development solutions. The majority of our team consists of former Macromedia Professional Services employees, thus our expertise encompasses ColdFusion, Flex, Breeze, and our own Content Management Solution- Substance™. We have the expertise and experience to make a huge impact in a short amount of time. Just ask some of our clients, such as Ben & Jerry's, Lenox, Children's Hospital-Boston, Medecins Sans Frontieres, New Era Cap, Southern Medical Association, and Sinclair Community College.

Any continent, any industry, any vertical: we're Universal!


---



Founded in 1997, HostMySite has developed into the true leader in service-oriented hosting. Businesses all around the world trust HostMySite to deliver unrivaled expertise in ColdFusion, ASP.NET, SQL Server 2000 hosting, and to provide safe haven for mission critical websites and applications. In response to incredible word-of-mouth growth, HostMySite has recently opened a second carrier-class datacenter capable of hosting thousands of servers. Anyone requiring mission-critical hosting services should contact HostMySite 24/7/365 by visiting us on the web at http://www.hostmysite.com.

---



Macromedia Press Get the most out of your Macromedia software with books from Macromedia Press the official publisher for Macromedia. With top-notch books for both designers and developers covering the latest in Web design, Macromedia Press offers expert training, straight from the source. Choose from books by noted Macromedia experts, such as Ben Forta and Joseph Lowery, as well as step-by-step project-based tutorials in the Training from the Source series, comprehensive reference guides in the Demystified series, developer Construction Kits, Certification Study Guides, or co-branded Visual QuickStart Guides.

---




AboutWeb is an innovative technology solutions firm, established in 1998. AboutWeb offers services from three distinct divisions: Staff Augmentation, IT Project Solutions, and Training.

Whether it's completing a project, learning new skills, or staffing-up your own team, we can fulfill your technology needs. Successful technology firms in today's competitive Internet arena must consistently demonstrate the ability to deliver projects on time, in accordance with customer specifications, and within budget.

At AboutWeb, we have recruited the kind of staff that can do this time and again. Our team is highly motivated, technically proficient, and willing to go to great lengths to ensure the successful completion of every project.

---




Montgomery College is a nationally known community college with over 20,000 credit and 15,000 non-credit students annually. Montgomery College has three campuses located in Rockville, Takoma Park and Germantown, Maryland and offers several distance learning programs. For more information about MC, go to www.montgomerycollege.edu.

---


Fig Leaf Software is a premier Macromedia and Paperthin partner specializing in web design, development and training. Serving a broad range of clients from the public and private sectors, our Macromedia certified developers and instructors have helped hundreds of organizations become more effective through the application of web and database technologies.

Our training group has won the coveted Macromedia partner award for "Best Training Company" each year since the award's inception. This unprecedented success comes from our certified developer-instructors bringing their real-world experiences "from the trenches" into the classroom. Our commitment to student success continues outside of class with unequaled community support through direct email, user groups, and listservs.

Our consulting group recently implemented one of the largest Macromedia ColdFusion and Paperthin CommonSpot websites ever produced. The Voice of America (www.voanews.com) contains over a half a million pages, segmented into 45 different languages, accessed 210 million times each month.

From the latest in Rich Internet Application development with Macromedia Flex to custom implementations of Macromedia Breeze, web content management to portals, database integration, and enterprise architecture or best practices audits involving Dreamweaver, the Macromedia Web Publishing System, Flash, ColdFusion, and Microsoft .NET, Fig Leaf's talented and award winning team of developers, instructors, and designers welcome the opportunity to work with you on your next project.

---


FusionDox is the web-based software solution that provides the tools you need to create and manage your organization's knowledge -- not just your documents.

Keep strict tabs on your documents with built-in document approvals, revision control and activity auditing. Put your knowledge to work for you by easily building your own custom forms, views and reports.

Why spend time and money on dedicated solutions for CRM, Project Management, etc., when you can design your own with FusionDox and share them with branch offices and customers, all without requiring any programming! Furthermore, you can extend FusionDox' capabilities and integrate with 3rd party systems thanks to its powerful ColdFusion and web services API.

Contact one of out engineers today for a live webcast demo to see how FusionDox will work for you!

www.fusiondox.com
www.iexp.com
1.800.996.4397

---


The Capital PC User Group, Inc. (CPCUG), a nonprofit 501(c)(3) educational organization established in 1982, provides forums for sharing information, experience, and resources among computer users, from novice to advanced. Although CPCUG serves primarily the Washington, DC, area, members are found worldwide.

10 Reasons Computer Users Join CPCUG:


1. Helpline
2. Mail delivery of award-winning _Monitor_ magazine
3. Hands-on classes at discounted member rates
4. Mentors for computer specification and building
5. Discounts
6. Internet service options
7. Member-only e-mail lists
8. Books and software for review writers
9. Valuable door prizes
10. Professional network building

CPCUG community activities include annual student science fair awards, student mentoring, our computer recycling program "Reboot," and free seminars and workshops on topics including programming, Web development, software tips, robotics, handheld computing, computer and network security, hardware, statistics, investing, and consulting.

Membership entitles household family members to all CPCUG membership benefits, and costs only $42 annually.

---


SiteRefresh: Powerful Content Management for Web Sites, Portals & Applications
Includes Version Control, Workflow, Search, Image/File Repository, Audit Trails, Meta-Data, Flexible Data Modeling, and more ...

Empower content stakeholders and Business Users to create, update and manage content without IT intervention.
Liberate technology professionals from content churn while respecting technology standards and investments.
Flexible, customizable content types giving you unprecedented capabilities to make your Web site work the way you want.
Cleanly separate content from format - easily repurpose content within and across Web sites.
Enterprise scalable feature-rich J2EE Core + Open Publishing System delivering the best flexibility & value in the marketplace.
All scripting languages supported (CFM, .NET, ASP, JSP, XSLT, PHP, etc.)
Multi-platform: installs on Windows, Solaris, Linux, Mac OS X, and more. Compatible with Oracle, SQL Server, mySQL, and more.
Technology you'll never outgrow: from micro-sites to large-scale enterprise Web sites; even mix and match technologies across different portions of your site
Powerful Integration: Personalization, portals, intranets, extranets, applications, and even existing site retro-fits are manageable projects - not multi-year efforts.

---


You're using ColdFusion and you need to know the answer to a question. You need to talk to someone who knows more ColdFusion than you. You need it now. Where do you go? Since 1996 (and earlier) the answer has been to the House of Fusion (http://www.houseoffusion.com). Whether it's the high volume CF-Talk list, another one of our popular technical (or non-technical) mailing lists, or articles, House of Fusion has always been there to enhance the ColdFusion developer community. And it doesn't stop there.