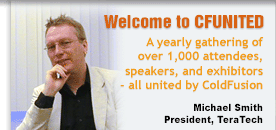 "
The CFUNITED Sneak Peek was a great success. CFDJ editor Simon Horwith was there and said the hotel looks really nice Much larger and also more professional than past venues. It's all new, has large rooms for sessions, the guest rooms and suites are nice, it has a hip bar/lounge, and that it's in a very convenient location, too. I think it's going to be a terrific event."
"
"
If this is your first time, you will be very happy. CFUN is the best CFML conference - period. ... consistently I can say CFUN is the one most worth your money
"
"
CFUN has become the premier CF specific event, and Michael Smith and his team deserve all sorts of praise for their hard work in pulling it all off yet again.
"
"
... learn tips, tricks, and trends from CFML industry leaders and experts, be inspired, and more productive than ever before!
"
"
...this event really is the best gathering in the world for people developing or managing CF systems. It's here that we can understand what happened, hear what's happening, and learn what's going to happen. You can't beat it.
"
"
Great place to network yourself and pick up new techinques and ideas. Also to meet ones peers, and see what the future holds for all those involved with ColdFusion
"
"
Introductions to the latest developing techniques. Get inspiration in new ways to develop projects. Generally, to "re-kindle" your cf "fire" by being part of a group excited by and interested in cf development.
"


Conference (Main Event) Schedule:
We have a new schedule with a few changes. Click on the following to obtain a printable copy.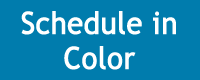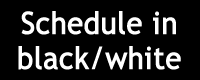 ---
The following pre-conf classes are a separate charge from the three day conference sessions. See the complete class schedule and prices.
| | | | | |
| --- | --- | --- | --- | --- |
| MONDAY | Designing and Developing OO Applications with CFCs - Hal Helms | Roll Your Own API - Maximizing Code ReUse with CFCs and Custom Tag - Simon Horwith | Introduction to Web Development Using .NET - Geoff Snowman and Dwight Barbour | Beyond Basic SQL for CF - Nate Nelson |
| TUESDAY | Leveraging .Net Strengths from CFML - Charlie Arehart | Advanced Cascading Stylesheets - Sandra Clark | Forms and Beans: Refactoring existing ColdFusion using Objects - Joe Rinehart | FLiP and Fusebox walkthrough - Jeff Peters |
---