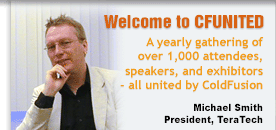 "
The CFUNITED Sneak Peek was a great success. CFDJ editor Simon Horwith was there and said the hotel looks really nice Much larger and also more professional than past venues. It's all new, has large rooms for sessions, the guest rooms and suites are nice, it has a hip bar/lounge, and that it's in a very convenient location, too. I think it's going to be a terrific event."
"
"
If this is your first time, you will be very happy. CFUN is the best CFML conference - period. ... consistently I can say CFUN is the one most worth your money
"
"
CFUN has become the premier CF specific event, and Michael Smith and his team deserve all sorts of praise for their hard work in pulling it all off yet again.
"
"
... learn tips, tricks, and trends from CFML industry leaders and experts, be inspired, and more productive than ever before!
"
"
...this event really is the best gathering in the world for people developing or managing CF systems. It's here that we can understand what happened, hear what's happening, and learn what's going to happen. You can't beat it.
"
"
Great place to network yourself and pick up new techinques and ideas. Also to meet ones peers, and see what the future holds for all those involved with ColdFusion
"
"
Introductions to the latest developing techniques. Get inspiration in new ways to develop projects. Generally, to "re-kindle" your cf "fire" by being part of a group excited by and interested in cf development.
"



Formerly known as CFUN, CFUNITED has gone upscale - with over 40 nationally known speakers and over 1,000 attendees expected to attend 64 sessions! Started in 1999 at the National Institutes of Health (NIH) in Bethesda by TeraTech, this is the seventh annual national ColdFusion event. How is CFUNITED different from other conferences? It is run by developers for developers. We stop the marketing fluff at the door so you can learn more from other developers. We also encourage sessions based on real world experience and real user case studies so you can see what your collegues at other organizations are doing. Additionally CFUNITED unites the whole ColdFusion® and web development community.
The venue has changed to a beautiful new state-of-the-art facility: The Montgomery County Conference Center. The MCCC just opened this winter, and is right next to a Metro stop in Bethesda, Maryland - providing easy and direct access from Reagan National Airport and to all downtown Washington DC attractions.
This is also a great opportunity to enjoy our Nation's Capital over the Fourth of July weekend, including the Nation's best fireworks exhibition on the Capital Mall.