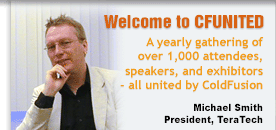 "
The CFUNITED Sneak Peek was a great success. CFDJ editor Simon Horwith was there and said the hotel looks really nice Much larger and also more professional than past venues. It's all new, has large rooms for sessions, the guest rooms and suites are nice, it has a hip bar/lounge, and that it's in a very convenient location, too. I think it's going to be a terrific event."
"
"
If this is your first time, you will be very happy. CFUN is the best CFML conference - period. ... consistently I can say CFUN is the one most worth your money
"
"
CFUN has become the premier CF specific event, and Michael Smith and his team deserve all sorts of praise for their hard work in pulling it all off yet again.
"
"
... learn tips, tricks, and trends from CFML industry leaders and experts, be inspired, and more productive than ever before!
"
"
...this event really is the best gathering in the world for people developing or managing CF systems. It's here that we can understand what happened, hear what's happening, and learn what's going to happen. You can't beat it.
"
"
Great place to network yourself and pick up new techinques and ideas. Also to meet ones peers, and see what the future holds for all those involved with ColdFusion
"
"
Introductions to the latest developing techniques. Get inspiration in new ways to develop projects. Generally, to "re-kindle" your cf "fire" by being part of a group excited by and interested in cf development.
"



1. Why did the price go up so much? We know that it is 3 days vs. 2 but the price is more than twice what is was last year.
With the user group discount code the price should be $399 early bird vs $199 last year. The extra costs are the extra day, providing lunch on 3 days plus open bar reception on Wed night, and a larger (and much nicer) hotel than last year. Also the hotel charges more for events during the week than on weekends. All this adds up to why the price went up 100% instead of 50%. At $399 for 3 days of training that works out at less than $150 per day and it is still a bargin.
2. Will the full agenda with sessions & associated timeslots be out before the early bird deadline of 2/25?
Probably no because we still have some slots to fill from Macromedia and Microsoft and they will affect the schedule. In addition we plan to repeat some popular sessions and need to poll attendees to find out which ones to repeat. Maybe we can get a draft schedule up soon.
3. Will you provide Kosher lunch?
We have an optional Kosher lunch available. Please email liz @ teratech.com if you would like to request this. Thanks.
If you have questions of your own, please email:
[email protected]
.