CFunited 2006 Videos
View a free video from the CFUNITED '06 video package now! Pick from any one of the sessions offered at CFUnited 2006 and get it for free.
Why CFUNITED?
CFUNITED is the only conference of its kind that is run by developers, for developers. What this means is that the topics are exactly what web developers need to learn now and are based on real world experience. There are real users in the case studies so you can see what your colleagues at other organizations are doing. It also means that the marketing fluff stops at the door -- so you can learn more from other developers! CFUNITED unites the whole ColdFusion® and web development community.
Formerly known as CFUN, CFUNITED in 2005 had over 50 nationally known speakers and over 900 attendees with 64 sessions! Started in 1999 by TeraTech, this is the eighth annual national ColdFusion event. Again this year it is being held in June, just outside Washington DC at a beautiful new state-of-the-art facility: The Montgomery County Conference Center, and is right next to a Metro stop and the freeway - providing easy and direct access from Reagan National Airport and to all downtown Washington DC attractions. That makes CFUNITED a great opportunity to also enjoy our Nation's Capital over the Fourth of July weekend, including the Nation's best fireworks exhibition on the Capital Mall and the many restaurants and night clubs in downtown DC.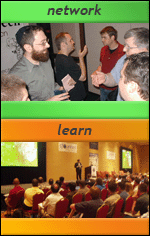 At CFUNITED, there is something for everyone.
This year's conference is a 3-day event with a bonus on Saturday repeating the most popular sessions. In addition to the keynotes and sessions you expect at any conference, this year will include Birds-of-Feather discussions in the evenings, panel discussions, a community area, and many other social and networking events. If 4 days isn't enough for you, there is a Team Macromedia and User Group Manager event on the day before the conference, and full-day hands-on classes, instructed by CFUNITED presenters, during the two days prior to the conference.
Those of you new to CF will be happy to know that there is an entire track of beginner level boot camp sessions covering everything from an introduction to the basics of CFML, to the basics of SQL, and several introductions to code reuse with UDFs and custom tags. There is an accessibility and usability track with sessions on usability testing, search engine optimization, and CSS. There's a track on development and platforms, which includes sessions on Verity, FarCry, Scaling and Tuning, and PLUM to name a few. The CFML, .NET, and Windows track features sessions on such topics as .NET, SQL Server 2005, developing Pocket PC applications, SQL Server optimization, and .NET/CFML administration and integration with BlueDragon. Of course there's also an Advanced CF track, which includes sessions on Event Gateways, security, java integration, advanced database techniques, and more. Similar to the advanced track is the empowered programming track which includes sessions on FliP, MACH II, design patterns, project management, application branding, and domain models to name a few. Last but not least is the MX Integration track that features sessions on integrating ColdFusion with Flex, Flash, DreamWeaver, and more.

CFUNITED 2005 has been moved to http://www.cfunited.com/2005/

Quotes: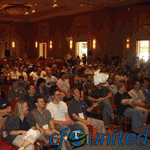 ""The CFUNITED Sneak Peek was a great success. CFDJ editor Simon Horwith was there and said the hotel looks really nice Much larger and also more professional than past venues. It's all new, has large rooms for sessions, the guest rooms and suites are nice, it has a hip bar/lounge, and that it's in a very convenient location, too. I think it's going to be a terrific event." "
-Simon Horwith, Editor CFDJ
"If this is your first time, you will be very happy. CFUN is the best CFML conference - period. ... consistently I can say CFUN is the one most worth your money"
-Raymond Camden, Mindseye, Inc
"CFUN has become the premier CF specific event, and Michael Smith and his team deserve all sorts of praise for their hard work in pulling it all off yet again."
-Ben Forta
"A thousand CF developers all under one roof is both amazingly fun and remarkably educational. Seven tracks means something for everyone, and 54+ speakers means a diverse collection of expertise across all CF-related disciplines."
-Barney Boisvert
"Application development involves rapidly evolving technologies. Anyone in the industry who does not actively pursue expanding their knowledge will quickly become obsolete. CFUNITED looks to provide the best value for my education dollar."
-Clay Mabbitt
"CF developers are a hot commodity. The demand for fast, reliable web applications is on the rise. Now is the time to be a ColdFusion developer if you want to be on top of the game. CFUNITED is the place to be to see the latest feature sets of ColdFusion and what it can do for you and your company. Be the first to witness it all."
-Jeff Coughlin
"CFUNITED is a great way to not only network with fellow ColdFusion afficianados, but also to learn new techniques and methods to help your career or business. You also can get inside scooops on developments in ColdFusion and learn best practices and much more."
-Angela Trigg
"CFUNITED is a great opportunity to launch your career into the next level, allowing developers to learn new tips, tricks and techniques, all while bonding with fellow ColdFusion users many of us only know by name."
-Constanty DeCinko
"It is run by developers for developers. The sessions are based on real world experience and real user case studies."
-Rich Paul
"It is the largest conference for CF targeted specifically for developers. It is run by developers for developers. I can learn from other developers real world experience and real user case studies so I can see what my collegues at other organizations are doing. And it is just a great time to be had by all."
-Barbara ONeal
"Learning more, networking more, getting NEW ideas...and now, to support CF's continued existence."
-Howard Perlman
"There is no better ColdFusion conference out there than CFUNITED. One conference at a world class conference center gets you three days of classes that will make you a better programmer and personally connect you with the top ColdFusion experts in the world. No car rental necessary. Fly to Washington, D.C. and hop on the Metro to take you across the street from the hotel. There is no better choice if you know ColdFusion or want to learn ColdFusion: CFUNITED is a self contained can't miss affair if you are serious about ColdFusion. Miss it and you lose out for yet another year while others leave you coding in the dust."
-Frank Nickerson
"Where else can you find such a concentration of ColdFusion expertise and genius in one place at one time? I look at the list of topics and speakers and I can't imagine coming away from the event without being a better programmer."
-Carolyn Foster
Q: Will there be a MAX this year?

Ben Forta: We're still working through it, we do plan a conference, but details are not finalized yet. Part of what we need to figure out is who the conference is for, and what products it should cover. With the merger with Adobe there are over 70 products in our product line, and so we need to figure which to include, and the type of coverage that each should get. I'd expect that we end up doing something similar to MAX, a company conference dedicated to many of our products, explaining high level direction and vision, providing sneaks at future products, and so on. And that is important to note. When Allaire's DevCon became Macromedia's MAX, some attendees found that there was not as much coverage of specific products as they'd have liked. The truth is there is no way we could create a dedicated DevCon type event for each product. MAX was a Macromedia conference, not a Flash or ColdFusion conference. But there is also a need for those product specific events, conferences than get dedicated far more time to specific products, and that is why we sponsor other events, like CFUNITED for ColdFusion and FlashForward for Flash.
Speaker Ben Forta