Manager's Guide
Why send your developers to CFUnited?
Give your company a competitive advantage by equipping your team with a wide range of new concepts, skills, techniques and best practices.
Arm your company with the knowledge and experience of the industry's top experts.
Broaden your horizons by making your team aware of what's available, what's hot, and what's not.
Build a free support network for your team by providing them with industry contacts and resources.
Contribute to the dramatically improved moral of a developer near you.
Bring valuable insight and knowledge in-house by investing in your development team today.
Register Online and Save!
Registration takes less than 5 minutes.
Smart companies know that great software systems are at the heart of a healthy and growing organization. With the incredible influence that technology has on the way we do business, it's no wonder corporate expenditures in new technology are at record-breaking levels year after year. The ColdFusion landscape is changing very rapidly and those developers who don't stay up-to-date will be left in the dust. CFUnited is a great opportunity to catch up with all the latest and greatest enhancements in ColdFusion.
Technology Managers Credo
If we are to stay competitive we must arm our talent with the tools and resources to face the technology challenges of today while laying the groundwork for the innovation of tomorrow.
If we are to grow with confidence we must nurture our talent so that our systems always reflect the best practices and standards of today's enterprise.
If we are to broaden our reach we must expand our horizons by actively staying aware of the ever-changing technology market, and gain the knowledge needed to profit from it.
At CFUnited 2008 your developers will be exposed to hundreds of new technologies, techniques, standards, and best practices that will change the way they think and work.
Many of the industries most respected experts will be on-hand to share their experience and knowledge through more than 75 interactive workshops, demonstrations, seminars, and instructor-led training events.
CFUnited 2008 will be the largest ColdFusion developer's conference in History
What Others Have to Say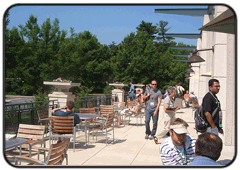 "If this is your first time, you will be very happy. CFUnited is the best CFML conference - period. ... Consistently I can say CFUnited is the one most worth your money" - Raymond Camden
"CFUnited has become the premier CF specific event, and Michael Smith and his team deserve all sorts of praise for their hard work in pulling it all off yet again." - Ben Forta, Adobe
"After attending CFUnited Express in NYC this spring, I saw the potential of CFUnited 2007. Its a conference full of information that will get you up to date on all the latest and greatest in the ColdFusion Developers world today. I am not missing any TeraTech conferences anymore. Frameworks Conference and CFUnited Express proved that you can get so much more knowledge and training from a few days on the conference, versus paying much more attending a class and getting much less for the money. I spoke to CFUnited 2006 attendees who can't stop praising the event. There are sessions for everyone, from developer to the manager. Can't wait for June 27th. Thanks!" - Elena A., Federal Reserve Board NY
The Premier ColdFusion Conference
Come to the premier ColdFusion conference of 2008 at the Washington DC Convention Center June 18- 21, 2008. Note that you could spend the whole CFUnited conference at Advanced CF topics, or learning CF in the boot camp or learning Flex and Air in our RIA track. Or deployment issue, or empowered programming or SQL! Plus in depth pre-conference classes from nationally know experts.
Top Speakers
Speakers include top industry names including: Simon Horwith, Charlie Arehart, Hal Helms, Michael Dinowitz, Ray Camden, Ben Forta, as well as many other respected CF authors and presenters.
Nine Tracks
Accessibility/Usability/UI
Advanced CF
Birds of Feather
CF8 Bootcamp
Databases, Deployment, Testing
Frameworks/CMS
Getting Started with ColdFusion
Integrating Technologies
Keynote
Manager
RIA


Included in your full conference registration will be the following
Attendance for 4 days (June 18- 21, 2008)
Keynote and General Sessions
All conference sessions including repeat sessions on Saturday
Entrance to Expo Area
Networking Events
Badge and Badge holder with bar scan code
Free Lunch for each show day (Dinner is not included)
Access to all presentations after the event, including all the recordings.
Promotional bag with materials
Opportunity to participate in raffle drawings
Top Sponsors