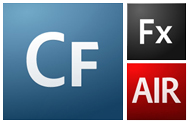 Join us for CFUnited's 10th anniversary event! With over 900 attendees in 2007, we expect 2008 to be even bigger and more exciting. We've changed locations to the DC Convention Center in the heart of Washington DC. Enjoy all the amazing sites and fun this summer. Attend for 3 or 4 days, or just attend during our Saturday repeats. Don't forget our Pre-Conference Classes for those who are looking for a full week of learning and networking. CFUnited has the largest ColdFusion Expo Show room with over 20 sponsors from all over the world. Adobe System Inc. is our Platinum Sponsor this year and Ben Forta's Keynote is a must see. Also don't forget our CF Celebration with an amazing venue that can't be revealed yet. Read More...
CFUnited is known for having excellent topics. This year we will have over 75 sessions covering all these tracks: Frameworks/CMS; Advanced CF; Database, Deployment, & Testing; CF8 Bootcamp; Getting Started in ColdFusion; Integrating Technologies; RIA; Accessibility/Usability/UI; Manager
We are bringing to you the most number of speakers ever for this event! Names like Josh Adams, Charlie Arehart, John Paul Ashenfelter, Raymond Camden, Sean Corfield, Michael Dinowitz, Ben Forta, Shlomy Gantz, Hal Helms, Simon Horwith, Adam Wayne Lehman, Nate Nelson, Joe Rinehart, Jeff Tapper, Matthew Woodward and lots more!
Check out the Manager's Guide if you want a quick 5 minute overview of the conference.
Interview Videos are available if you're interested in what others have to say about CFUnited.
Tell Your Friends About CFUnited!
If you went to CFUnited please show your support on your blog by Spreading The Word.
News
Conference Photo Stream