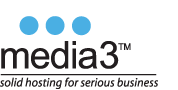 As proud sponsors of CFUnited conference 2009 Media3 is offering registered attendees 1 YEAR of free CF shared hosting.
(see http://www.media3.net/shared/cfcomp.cfm)
And 20% our CF Enterprise Hyper - V VPs'
( see http://www.media3.net/vps/CFVPShostingplans.cfm)
Both use the latest technology. Dell 900 servers with network storage running Window 2008 data center edition. This is 64 bit architecture and resides on a gigi bit switch network in our new SAS70 data center!
Important: This offer requires that you register by March 31st and you must contact liz (at) cfunited.com to take advantage of this offer. (Those who are already registered can contact Liz now)
The minimum saving is just under $300.00 effectively reducing your cost to register significantly.
See you at the show.
Bob Hayes
founder and CEO Media 3 Technologies